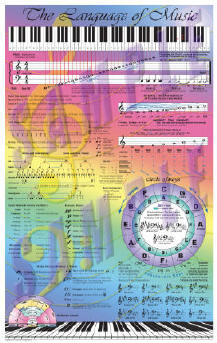 Ties together the relationship between sound and notes on the staff. This is a major element of reading music.

Illustrates time in music clearly and beautifully by revealing the rhythmical meaning of notes and rests.

Notates all tempo marks so you know exactly at what speed to play.

Shows all families of instruments, and their place in an orchestra layout.


De-mystifies musical symbols so you play in order and with feeling.

Reveals the interrelationship of notes, the building blocks of harmony. Teaches how to build any scale, chord or arpeggio.

Unlocks the secret of improvising or "jamming"

For all musicians on any instrument

Large 24 X 36 inch size
Easy to read and fits in a standard frame
Price per poster is only
$12.99! + shipping*
Retailers: Receive a mounted display poster, plus 2 posters to sell and send us absolutely no money. Just send us our portion of the profit as you re-order.
PLUS, we are so sure the poster will sell for you, we will even pay for shipping on your first order.

*100% Satisfaction Guaranteed!